EXPEDITION TO THE EDGE OF THE WORLD
View the Expedition TRACK – click here
The Global Offshore Sailing Team sailed up to the most Northern partially ice-free place of this planet – the pack-ice border. The international team remembered all sailors who bravely explored and fought in this fragile and dangerous environment.
With this Expedition a platform of intercultural and interdisciplinary exchange for Arctic Enthusiasts such as Historians, Environmental Scientists, Sailors within Governments, NGO's, Navies, Associations or just out of personal interest has been created.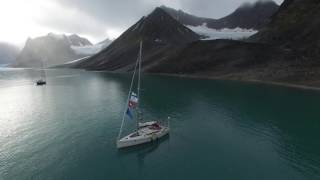 A special focus lies on the following topics:
Historic Research:  During the first leg of Expedition "Arctic Ocean Raptor" (AOR), the Global Offshore Sailing Team sailed in the tradition of a number of past and well renown Arctic discoverers and researchers to the pack-ice border on 80°50,8'N.
Commemoration: 75th Anniversary: Commemoration of all seamen of all nations who fought in the 2nd World War Arctic Battle during the time of the Arctic Convoys
Environmental Awareness & Offshore Sailing: Sailing to  the most northern reachable, partially ice-free points on Planet Earth. Public awareness about the real meltdown of pack ice in Arctic summers will be raised by sailing with a fiberglass sailing yacht to a point just 540 nautical miles or 1.000km away from the North Pole.